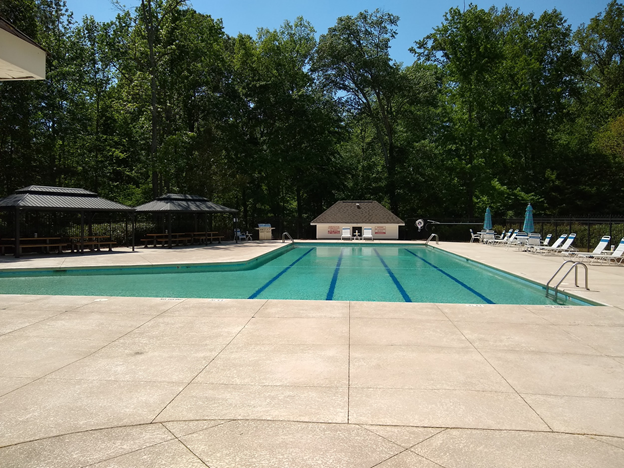 The Beckett Crossing community swimming pool is managed by the HOA Pool Committee, and is intended for the exclusive use of Beckett Crossing residents and their guests. Since this is a SWIM AT YOUR OWN RISK pool, there is no lifeguard on duty. The pool area is accessible with a key distributed to each homeowner. Please ensure that the pool gate is locked at all times by closing the gate upon entering and leaving the facility. Please do not lend your key to anyone.
Each homeowner must abide by the following rules, and enforce compliance by others, in order to keep the pool area safe. Anyone found abusing the pool rules might lose pool privileges. Anyone who has amenity privileges suspended may not be considered guests of another homeowner in order to gain access to the amenities. In addition, the health department has authority to shut down the pool for health and safety violations. As slow as governmental agencies operate, we do not want this to happen.
THIS POOL IS FOR THE EXCLUSIVE USE OF BECKETT CROSSING COMMUNITY HOMEOWNER ASSOCIATION MEMBERS AND THEIR GUESTS. THE HOMEOWNER ASSOCIATION ASSUMES NO LIABILITY FOR LOSS OR INJURIES.
NOTE: Pool rules, conditions, and hours of operation are subject to change. Suggestions are welcome. All changes will be for the benefit of the neighborhood as a whole.
The pool is for the exclusive use of Beckett Crossing residents and accompanying guests. Residents will be held responsible for the actions of their household members and their guests.
Please use the pool at your own risk. No lifeguard is on duty.
No glass containers or breakable containers of any kind are allowed in the pool area as a broken container will close the pool until the pool is drained, cleaned, and all broken particles are removed.
Pool is open from 6am to dusk daily with adult swim from 6am-8am.  Use of the pool is not permitted outside of normal operating hours.
Adults should not swim alone.
Children should not use the pool without adult supervision.  
No person under the age of 14 will be allowed in the pool area unless accompanied by an adult (18 years or older) who assumes responsibility for that person.
Children, who are not toilet trained, must wear plastic or nylon diaper covers. Disposable swim diapers alone are not allowed.  Disposable swim diapers alone may not contain fecal matter which could result in the pool being closed. 
The pool may be closed without notice, due to mechanical breakdown, weather conditions, health concerns, or operational difficulty, at the discretion of the Association, designated Association management, or pool management.
NO diving, running, horseplay, profanity, improper conduct, or any behavior that is potentially dangerous or offensive will be permitted in the pool area.
No smoking (including e-cigarettes and vaping) is permitted within the pool area. 
No one shall possess illegal substances on Beckett Crossing premises.
No bicycles, skateboards, roller blades, scooters, hoverboards are allowed in the pool area.
No weapons of any kind are permitted in the HOA common areas.
No pets or animals allowed in the pool area.
No one with any known or suspected contagious disease, inflamed eyes, nasal, or ear discharge, skin lesion, open wound, bandages is allowed in the pool. 
Please shower before entering the pool.
All personal belongings and litter/trash should be removed from the premises or properly discarded upon exiting the pool area.
Flotation devices or appropriate recreation pool toys may be used during non-crowded hours.  No floats or rafts larger than 3 feet are allowed in the pool on weekends.
Only homeowners in good standing (current with dues) are allowed the use of the facilities.
The association or management will not be responsible for the loss or damage to any personal property of any kind.
The pool and deck area is to be evacuated during an emergency situation or lightning and thunder. Participants may reenter the pool thirty minutes after the last clap of thunder is heard. 
Cut-offs and other improper swimwear are not allowed in the pool.
Please exercise courtesy with regards to the use of pool furniture and the playing of music. Keep all devices at a reasonable volume level that does not disturb others.
Replacement pool keys can be obtained by filling out the Pool Key Replacement form.  Details can be found on https://beckettcrossing.com/pool
Some of the pool shelters may be reserved.  Details can be found on https://beckettcrossing.com/pool
Many of these pool rules are required by NC state law. Violation of state laws may result in closure of the pool and reopening could take some time.